Window hinge broken on the lower part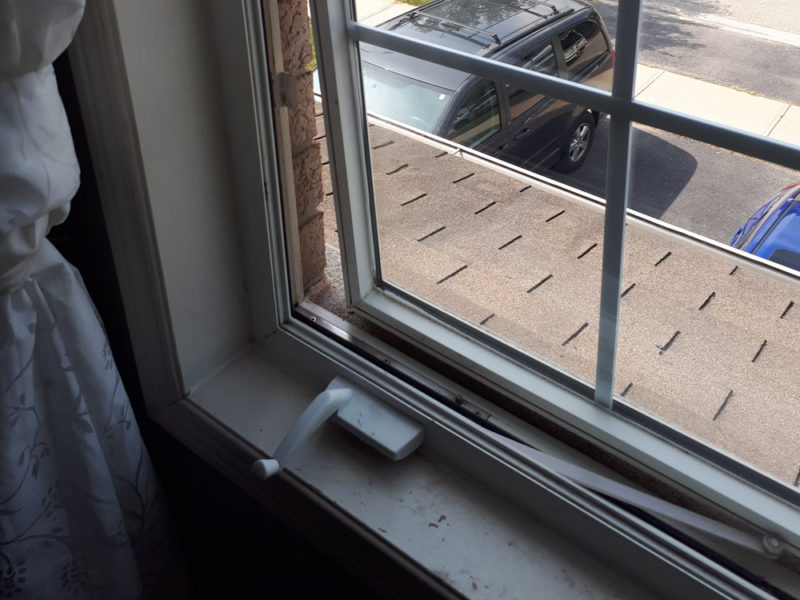 Broken window hinges often happen through the arms rusting out due to water accumulating around the window hinge on the sill or water getting inside the window frame and slowly seeping through the bottom screw holes on the window hinge. Often where rusting has occurred the window sill has become warped and rather than rolling off the window sill the water pools there around the window hinge thus over time it starts to rust. Before replacing the window hinges we try to identify why they rusted out. We always replace the bottom hinge and the top one so they are both the same age as even if the top hinge is not rusted the plastic parts do get brittle over time.
How do you identify if it is the window hinge or the crank?
The easiest way to identify the windows crank mechanism from the windows hinge is to look at the top of the window, there you will see just the hinge. On the bottom you can now determine what is the hinge and what is the crank. The purpose of the window hinge is to hold the window sash to the window frame, typically a hinged window will open using a window crank or operator. If you happen to come home and find your window just hanging there it is most likely that the window hinge is at fault. On the underside of the more popular hinges there is a nub that acts as a stop so the window cannot open past a set point, however over time this wears down and can allow the window to travel too far and possibly detaching itself from the slider part of the hinge. Or if rusted through then the hinge is no longer fixed to the window frame.
Window Hinge Replacement
Window hinge replacement can be tricky, you have to get the right size and make, remove the whole window from the frame and replace all parts of the top and bottom hinge before reinstalling the window to the frame.
Window repair man carries the most popular window hinges on their trucks to ensure a speedy window repair. We can, depending of the window hinge offer stainless steel alternative hinges that do not rust. When replacing the hinges we always use stainless steel screws that will not rust out. If you are within our window repair service area why not give us a call to give you a free quote over the phone to replace your broken window hinges, window cranks or even your foggy window glass?