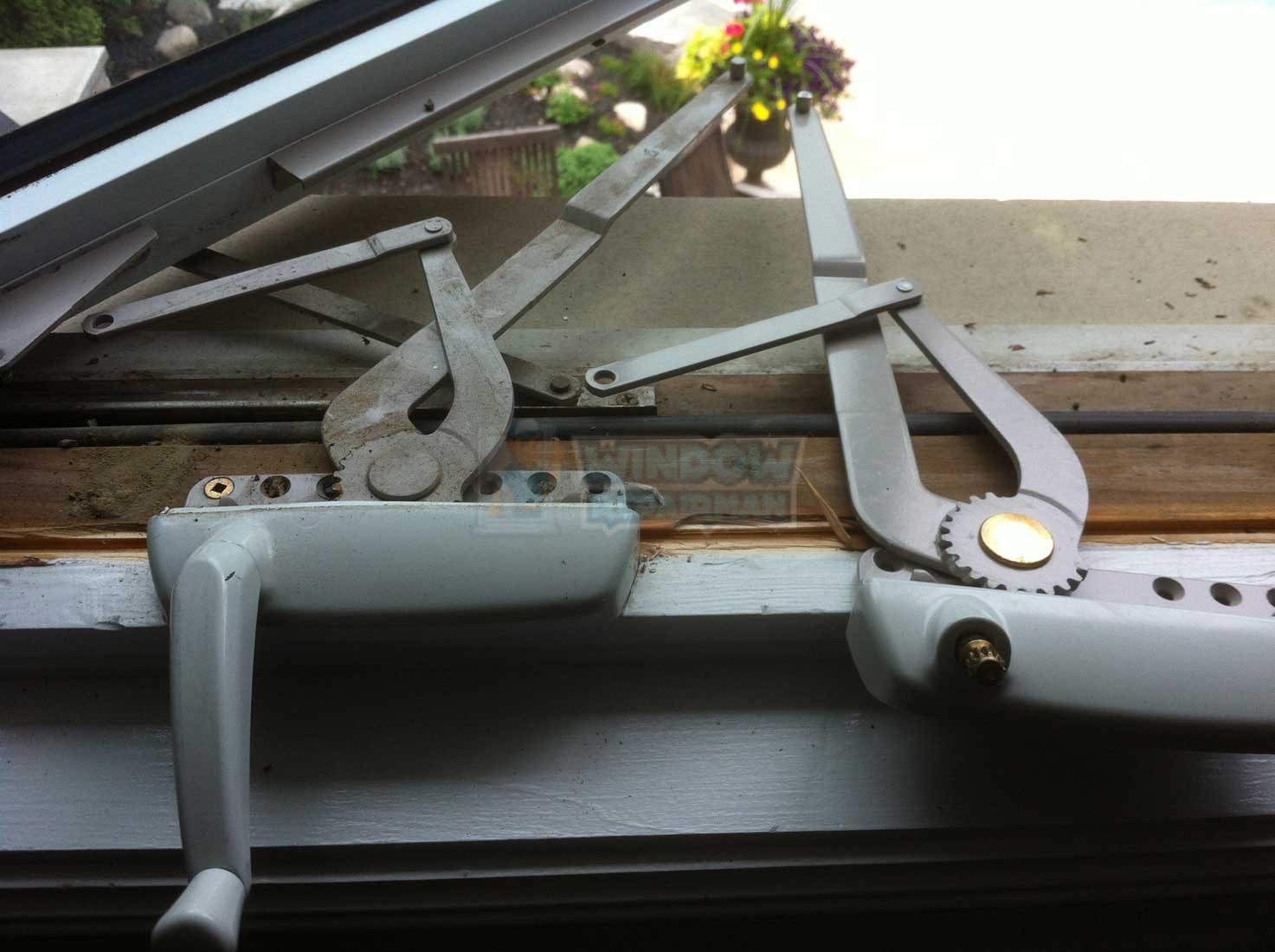 Window Crank or Window Operator Issues? We can Help
Window crank replacement becomes necessary when you are having issues opening or closing your casement window or awning window. If you are able to open the window but struggle to close it, and hear a clicking noise when turning the handle that's a sign that the gears are stripped inside the window crank mechanism. If the spigot the crank handle attaches to has fallen out then this also calls for replacing the window crank or window operator as they are also known.
Window Crank Replacement
Window cranks come in many different styles, makes and sizes, so it is important to get the right replacement window crank. Whilst window cranks may initially look the same they are often different, arm lengths vary, they may bend upwards, downwards have a single arm or dual arm. When you see the new one it might be different because there are so many types. Sometimes the window crank manufacturer is no longer in business, luckily Window Repair Man has many connections in the window business, often allowing us to locate a hard to find window crank or even suggest an alternative as a replacement to have your window functioning properly!
Why Do Window Cranks Fail?
Window cranks fail for many reasons, we see a lot of issues because there are 2 locks on most casement windows, and when blinds get fitted the lower lock gets opened but the upper one is still locked but people try to force the window crank and damage the gears inside. Another reason we replace window cranks is because the house has shifted because the windows are fixed to the internal wooden frame work of a house but the window sill rests on the external brickwork.
Over time the wooden frame that the windows are fixed to shrinks and pulls the window down, however the sill does not move so gets distorted upwards, causing difficulty opening and closing the window. We always try to remedy any issues with the window before replacing the window cranks as they will not last if it is still hard to open.
Fix your windows Do Not replace if you don't need to!
Window replacement is not always necessary, we hear from so many customers that they were told by numerous window company salesmen that replacing their windows was the only option. This is because they sell replacement windows, they do not sell window repairs and will never say to replace the window crank or fit a new window hinge or we can replace the glass on your foggy windows that are only 9 years old.
Window Crank Replacement Will Save You Money
Replacing your window cranks instead of replacing the whole window will save you money, also being able to fully close the window will save you money by not allowing the cold air to enter the room. Why not get your windows fixed now so you can enjoy fresh air when its time to be able to open ones windows and let the fresh air in. So many of our customers call us when they are about to sell as they really do not want to shell out a lot of money just to close the sale of their home. .
We Replace Window Cranks for Most Windows in Oakville, Burlington, Mississauga, Ancaster, Stoney Creek, Milton, Grimsby and Hamilton areas. If you want your window cranks replaced we would like you to send us a picture of the window crank not necessarily the window that has issues but at least a similar window. This allosw us to identify that we carry the crank or can at least locate one from our suppliers.
12 Months Warranty on Window Crank Replacement
We give 12 months warranty on all work carried out on your windows and 5 years warranty on any foggy windows that have the double panes replaced.
Window Cranks or Window Operator?
They are both the same window part, but can be called either they both help move the window to open or close.