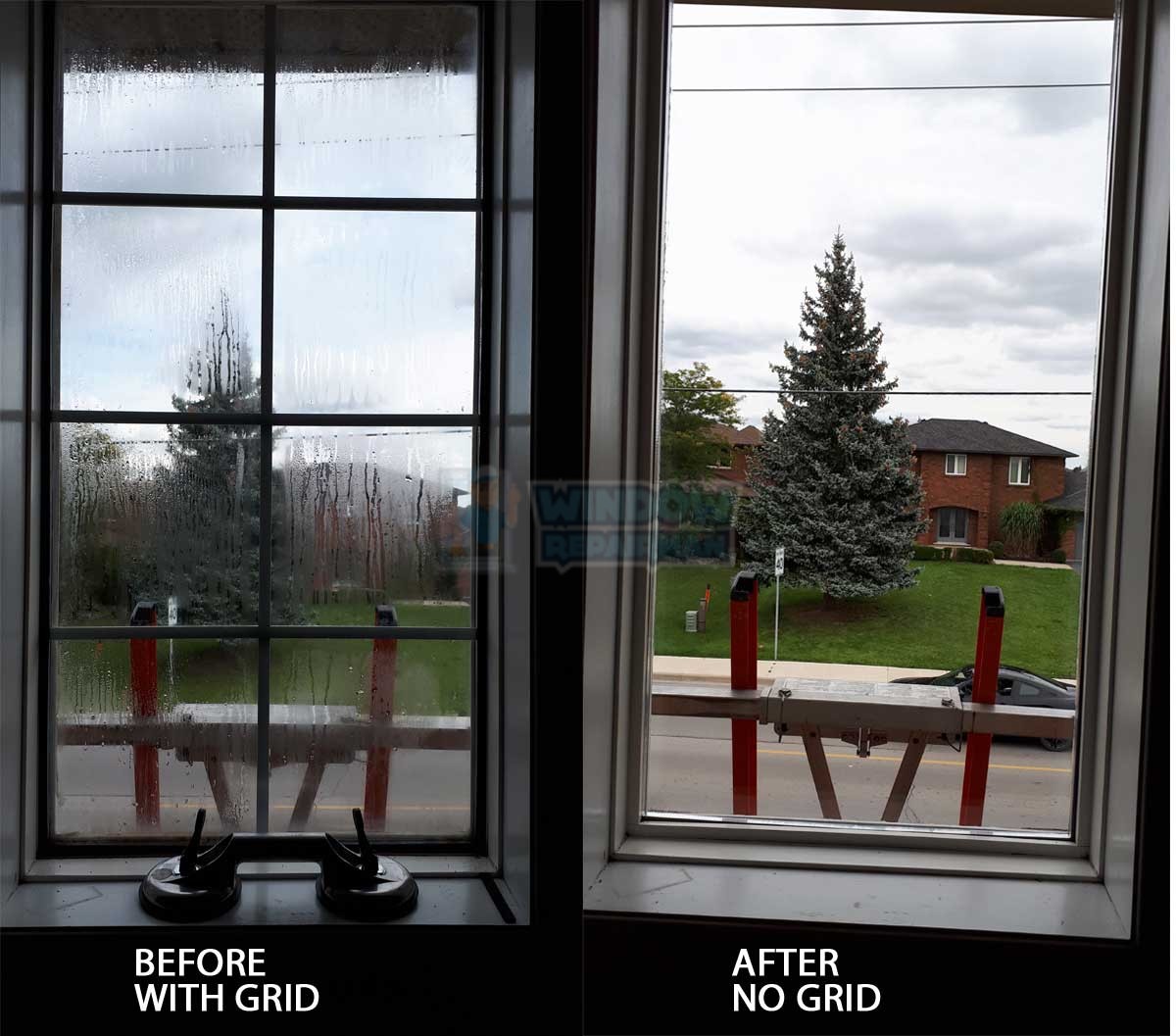 Foggy window repairs, in cold or hot, dry or wet, climates home owners experience of the shock of seeing their double pane thermal windows turning foggy or fogging." So what's the reason why I now have foggy windows?
How Do Foggy Windows Occur?
Basically, it's because the seal, covering the edge of the glass and fitted inside the window frame or sash, has failed for whatever reason, breaking what used to be an air-tight holding chamber,and has allowed the window's argon gas to escape out, thus allowing for atmosphere and water vapor to enter in.
What Causes a Window Seal to Fail, and become Foggy?
What may cause a window seal to fail? There are numerous possible causes – one might be due to a poorly manufactured IGU (Insulated Glass Unit). Another reason could be settling of the home. Ask any carpenter or glazier and they will explain, what used to be a rectangular or square window opening 10 or 15 years back, is not necessarily so any longer. Almost certainly, though, it's something known as "solar pumping" – which is the continuous cycle a window goes through when heated throughout the day, then cooled during the night. This constant never-ending cycle of expansion and contraction over time, may eventually compromise the window seal on even the top end manufacturer's thermal windows.
So can the seal on a thermal window (also known as a double-pane window or insulated) be fixed? Quick answer = no. When the window seal has become breached it really is impossible to successfully re-seal a windows thermal unit. Neither can one of the window panes just be removed, and the inside cleaned, then replaced. What seems to be just moisture build-up or condensation between the glass panes (known by manufacturers as "lites") is really a combination of water vapor and the decaying parts from the silica desiccant that's put into the aluminum spacer between your window panes in the manufacturing process to absorb any moisture, however it quickly gets saturated when window seal failure happens. Over time, this haze permanently etches onto the glass. (Silica desiccant the same found in those little white packets used to keep items dry through shipping and also storage) Furthermore, the rubber sealant used in thermal-pane production is normally butyl, an incredibly strong bonding agent that makes it almost impossible to separate the glass window panes intact. Unfortunately, the thermal unit may leak, however it wont come apart.
Whenever window seal failure does happen, it does so in small stages and moisture accumulation between your glass happens slowly, it's hardly noticeable at first, and is often mistaken as a dirty window. With time the process worsens as more water vapor gets into the thermal unit, showing as an ever-widening haze until what once was only a small moisture patch has become a typical "foggy window." And similar to tooth decay, when it starts, it never gets better… just gets worse.
What can be Done, how can I Repair my Foggy Windows
So what can you do about your foggy windows? You've got three options
Do nothing at all;
 Talk to a local window replacement company and get a completely new window, frame plus sash;
Contact a window repair company  like Window Repair Man and replace only the foggy windows thermal unit. (Notice: A window replacement company usually only installs entirely new windows in homes, whilst a window repair company usually repairs existing broken or foggy windows)
Clearly, not doing anything is the cheaper option. However, over time you might find that your view outdoors decreases, becoming less clear. Conversely, foggy windows do provide a certain amount of privacy to the residents of the house, particularly if one of these the foggy window is in the bathroom.
The most expensive choice is having the entire window replaced, and will undoubtedly correct the problem. Nonetheless, window replacement companies are usually geared towards replacing multiple windows, many have a minimum order of 4 or 5 to take on a job.
Affordable Foggy Window Repair
The most affordable and effective solution is to call a window repair company to fix the problem with foggy windows, since this is their business. Most window repair companies will happily replace only a single foggy window or two, or even more, if necessary. Replacing only the glass IGU is the sensible solution, you are not wasting money changing all the windows, and you will get a warranty on the glass units that have been replaced. Typically your window units can be replaced in 5-10 business days, sometimes a little bit longer as the demand increases.
Because of technical innovation in the manufacture of insulated glass units (IGU) down the road, the issue of modern thermal windows fogging will likely decline, nevertheless for the great number of existing thermal windows around from the previous 30 or so years, the issue will certainly not only persist, but will worsen as time passes.
Foggy Window Replacement in and Around Burlington
Window repair man services the Burlington, Oakville, Hamilton, Stoney Creek, Ancaster, Milton and Mississauga areas. If you are experincing foggy windows, broken windows, issues with your windows hardware such as window cranks or window hinges give us a call.
When contacting us we would need to know the size of the glass, if you can take a tape measure and measure the width and height of the visible glass.